compensation: $150-$300 Weekly
employment type: part-time

QR Code Link to This Post

Immediate Part Time Openings in the Roswell Area


I am in need of hard-working and dependable service valets to collect trash within area apartment communities during the evenings. Great part-time pay. We collect trash 5 nights a week (Sunday through Thursday), beginning at 8pm. We are typically done by 11pm. More time/hours are typically available each evening to those who want or need it. Off Fridays and Saturdays!

This is a great job!! Very much like getting paid to exercise! If you like working outdoors, and don't mind a bit of manual labor, you'll love the position. I will train you on how to keep trash collection "clean". After our training, it should just feel like you are just picking up bags, not collecting trash. Contact me and I can explain all of the details.


Must Have Open Bed Truck


CALL or TEXT: Kevin (404) 823-8205

Click the video below to see exactly what the job is!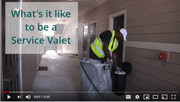 Apply Below:
https://valet.wd1.myworkdayjobs.com/en-US/Career_Site/job/AtlantaGA/Part-Time-Service-Valet---Evenings_R0013144?source=Craigslist
To qualify for this opportunity, you must have:
Open bed pick-up truck to transport trash items from door to property compactor. No Vans or SUVs
Valid driver's license
Have current auto Insurance IN YOUR NAME for your truck
Smart phone with data plan. No windows phones, only iPhone or Android
Ability to lift and transport up to 50 lbs., climb stairs, and walk distances
Interested applicants should email me with the following:
Your Name
Your email address (Craigslist usually hides it)
A phone number where I can contact you
Location
Type of Vehicle
Principals only. Recruiters, please don't contact this job poster.
do NOT contact us with unsolicited services or offers
OK to highlight this job opening for persons with disabilities
post id: 7022380731
posted:
updated: